About City

History & Location
Kanpur in 1857
Statistics
Accessibility
Places of interest
Excursion
Accomodation
Institutes & Colleges
Hospitals

Restaurants & Malls
Clubs
News Papers
General Enquiry
City Map
Help Line
Government Authorities
Airlines
Railway
Cinema Halls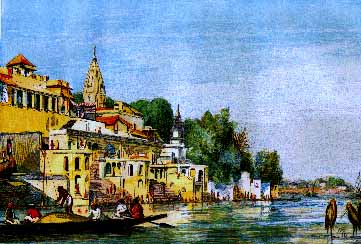 Nestled on the banks of the eternal Ganga, Kanpur stands as one of North India's major industrial centres with its own historical, religious and commercial importance. Believed to be founded by king Hindu Singh of the erstwhile state of Sachendi, Kanpur was originally known as `Kanhpur'. Historically, Jajmau on the eastern outskirts of present day Kanpur is regarded as one of the most archaic tounships of Kanpur district.Upto the 1st half of the 18th century Kanpur continued to survive as an insignificant village. Its fate, however, took a new turn soon after. In May 1765, Shuja-ud-daula, the Nawab Wazir of Awadh, was defeated by the British near Jajmau. It was probably at this time that strategic importance of the site of Kanpur was realised by the British. European businessmen had by this time gradually started establishing themselves in Kanpur. In order to ensure protection to their lives and property the `Awadh local forces' were shifted here in 1778. Kanpur passed into British hands under the treaty of 1801 with Nawab Saadat Ali Khan of Awadh. This forms a turning point in the history of Kanpur. Soon Kanpur became one of the most important military station of British India. It was declared a district on 24th March 1803.
About Us
Company Profile
Services Rendered
Sites Designed By Us
Other Services
Classifieds
Baby Names
Matrimonials
Online Shopping
Weekly Predictions
Predictions of 2001
Interesting Links
Jokes
Message Board
Email Exchange
Zodiac - Love Talk
Zodiac - Personality
What Ur Name Says?